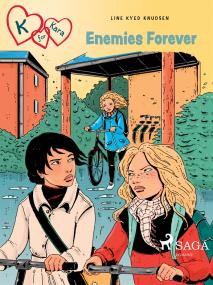 Isbn:
978-87-2617-743-5
Publisher:
Saga Egmont
Category:
9-12 years
Accessible since:
February 2021
---
K for Kara 18 - Enemies Forever
Laura, from the parallel class, accuses Rose of doing something that is not true. It makes Rose sad. Kara wants to help Rose, so everyone can see that Laura is lying. But Kara accidentally does something stupid, and suddenly Kara and Rose are enemies forever.

Line Kyed Knudsen was born in Gentofte in 1971. She debuted in 2003 and since then, she has written over 50 books for children and young adults. She often writes stories about friendships between girls. She has been nominated for several awards, and in 2007 she received Gyldendal's Pippi-award.



The books about Kara are inspired by her own childhood experiences as well as the experiences of her own daughter.
---