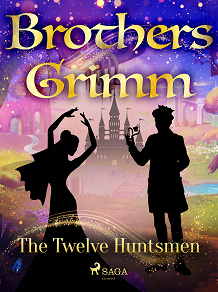 The Twelve Huntsmen
A prince and a princess are in love but the prince's father wants his son to marry another girl. The devastated princess comes up with a plan. She gathers a group of eleven more ladies who pretend to be huntsmen. They head to the king's castle and they earn his trust. The wedding day comes and the prince is about to marry the girl his father chose. The huntsmen however step in. What followed after that? Find out in "The Twelve Huntsmen".

Brothers Grimm are probably the best-known storytellers in the world. Some of their most popular fairy tales are "Cinderella", "Beauty and the Beast" and "Little Red Riding Hood" and there is hardly anybody who has not grown up with the adventures of Hansel and Gretel, Rapunzel and Snow White.

Jacob and Wilhelm Grimm's exceptional literature legacy consists of recorded German and European folktales and legends. Their collections have been translated into all European languages in their lifetime and into every living language today.


Children and adults alike, immerse yourselves into Grimm's world of folktales and legends! Come, discover the little-known tales and treasured classics in this collection of 210 fairy tales.
---