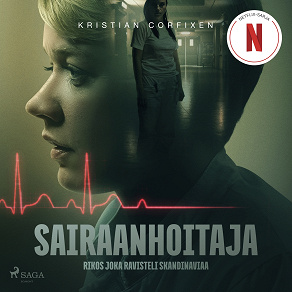 Isbn:
978-87-2681-315-9
Publisher:
Saga Egmont
Category:
Society & Culture
Accessible since:
April 2022
Narrator:
Jari Nissinen
Length: 11 hours 7 minutes
---
Sairaanhoitaja – Rikos joka ravisteli Skandinaviaa
Palkittu bestseller yhdestä Tanskan tunnetuimmista murhatutkimuksista

Poliisi saa puhelun varhain aamulla maaliskuussa 2015. Nykøbing Falsterin sairaalassa työskentelevä hoitaja epäilee kollegansa surmanneen sairaalan potilaita ja uskoo jälleen uuden murhan tapahtuneen yövuoron aikana. Pian useat muutkin todistajat kertovat epäilyksistään, että ahkera sairaanhoitaja olisi myrkyttänyt potilaita; jotkut ovat epäilleet sitä jo vuosia. Miksei kukaan ole reagoinut aiemmin? Entä missä ovat todisteet, kun potilaiden ruumiit on jo krematoitu?

Palkitussa reportaasissa toimittaja Kristian Corfixen palaa ilmoitusta edeltäneen yövuoron tapahtumiin, jolloin kolme potilasta kuoli epämääräisissä olosuhteissa. Alkaa Tanskan seuratuin rikostutkinta, jonka seurauksena syytetty sairaanhoitaja tuomittiin 12 vuoden vankeusrangaistukseen. Onko sairaanhoitajan tapaus esimerkki käsistä riistäytyneistä työpaikkajuoruista vai sarjamurhaajasta, joka tekee mitä tahansa saadakseen työyhteisönsä arvostuksen?

Kirja perustuu kattavaan taustatutkimukseen kuten haastatteluihin, potilaskertomuksiin, ruumiinavausraportteihin, sähköpostikeskusteluihin ja poliisin raportteihin. Corfixen päästää ääneen tapauksen keskeiset henkilöt – tuomitun sairaanhoitajan Christina Aistrup Hansenin sekä tutkinnan avaintodistajan. 

'Earnest and psychologically captivating book. A remarkable piece of legal history. Illuminating.'

" ... an elaborate, sympathetic, and compelling story."

"Downright earnest... Captivating. Journalist Kristian Corfixen has ploughed through an enormous amount of material."

"The book cannot be recommended enough. Reality, as usual, surpasses the imagination."




Kristian Corfixen (s. 1988) on tanskalaisen Politiken-päivälehden toimittaja, joka on palkittu tutkivasta journalismistaan. "Sairaanhoitaja – Rikos joka ravisteli Skandinaviaa" on hänen ensimmäinen kirjansa ja se on voittanut useita kirja- ja journalistipalkintoja.

Listen to sample
---