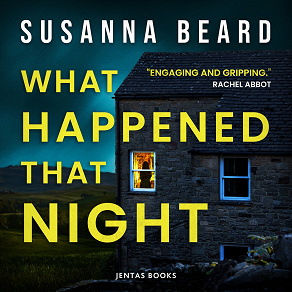 Isbn:
978-87-4283-115-1
Publisher:
Jentas
Category:
Crime & Mystery
Accessible since:
June 2022
Narrator:
Emma Gregory
Length: 8 hours 16 minutes
---
What Happened That Night
THAT NIGHT.
Lisa remembers the first part of the night: an evening in the pub with her best friend.
Then nothing.
She wakes up, days later. She's in hospital. Her best friend is dead.
WHAT HAPPENED?
Lisa holes up in a remote country cottage, plagued by guilt and flashbacks: how did their assailant know them? Why were they attacked? And what really happened that night?
With only vague memories of the event, she cuts herself off from friends and family, spending her days wandering the hills with her dog, Riley.
Lisa realises there's another truth still hidden to her, a truth she can't escape from. A truth that may have been right in front of her all along.
Listen to sample
---