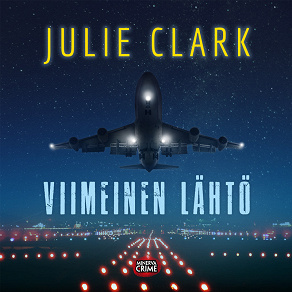 Isbn:
978-95-2375-604-5
Publisher:
Minerva kustannus
Category:
Novels
Crime & Mystery
Accessible since:
October 2022
Narrator:
Usva Kärnä
Length: 10 hours 40 minutes
---
Viimeinen lähtö
Kaksi naista, kaksi lentoa, viimeinen tilaisuus kadota.
Kaksi epätoivoista naista vaihtaa lentolippujaan. Kumpikaan ei tiedä mitä toinen pakenee. Sitten toinen kone putoaa. Pulssia kiihdyttävä trilleri silmänräpäyksessä tehdystä päätöksestä, joka muuttaa kaiken.
Claire Cookin elämä näyttää täydelliseltä. Hänellä on poliitikon uralla menestynyt aviomies, rahaa, elegantti talo Manhattanilla ja suuri palveluskunta pitämässä huolta kaikesta. Suljettujen ovien takana todellisuus on toinen. Mies on väkivaltainen ja kontrolloiva.
Claire löytää tilaisuutensa päästä karkuun, kun hän kohtaa lentokentällä omia ongelmiaan pakenevan Evan. Viime hetkellä naiset vaihtavat lentolippunsa ja henkilöpaperinsa. Claire nousee Evaksi tekeytyneenä Oaklandiin lähtevään koneeseen, Eva suuntaa Puerto Ricon lennolle.
Kun Puerto Ricoon matkalla ollut kone putoaa, Claire huomaa saaneensa mahdollisuuden kokonaan uuteen elämään. Uuden henkilöllisyyden myötä hän saa kannettavakseen myös Evan salaisuudet.
Julie Clark onamerikkalainen bestsellerdekkaristi. Viimeinen lähtö on hänen toinen romaaninsa. Lionsgate osti televisiontioikeudet Clarkin esikoisteokseen The Ones We Choose, ja myös hänen kolmas kirjansa The Lies I Tell on ollut arvostelu- ja myyntimenestys. Clark asuu Los Angelesissa kahden poikansa ja tottelemattoman koiransa kanssa.
Listen to sample
---